Ushahidi allows you to focus on your project goals and impact. Our team will worry about the technology.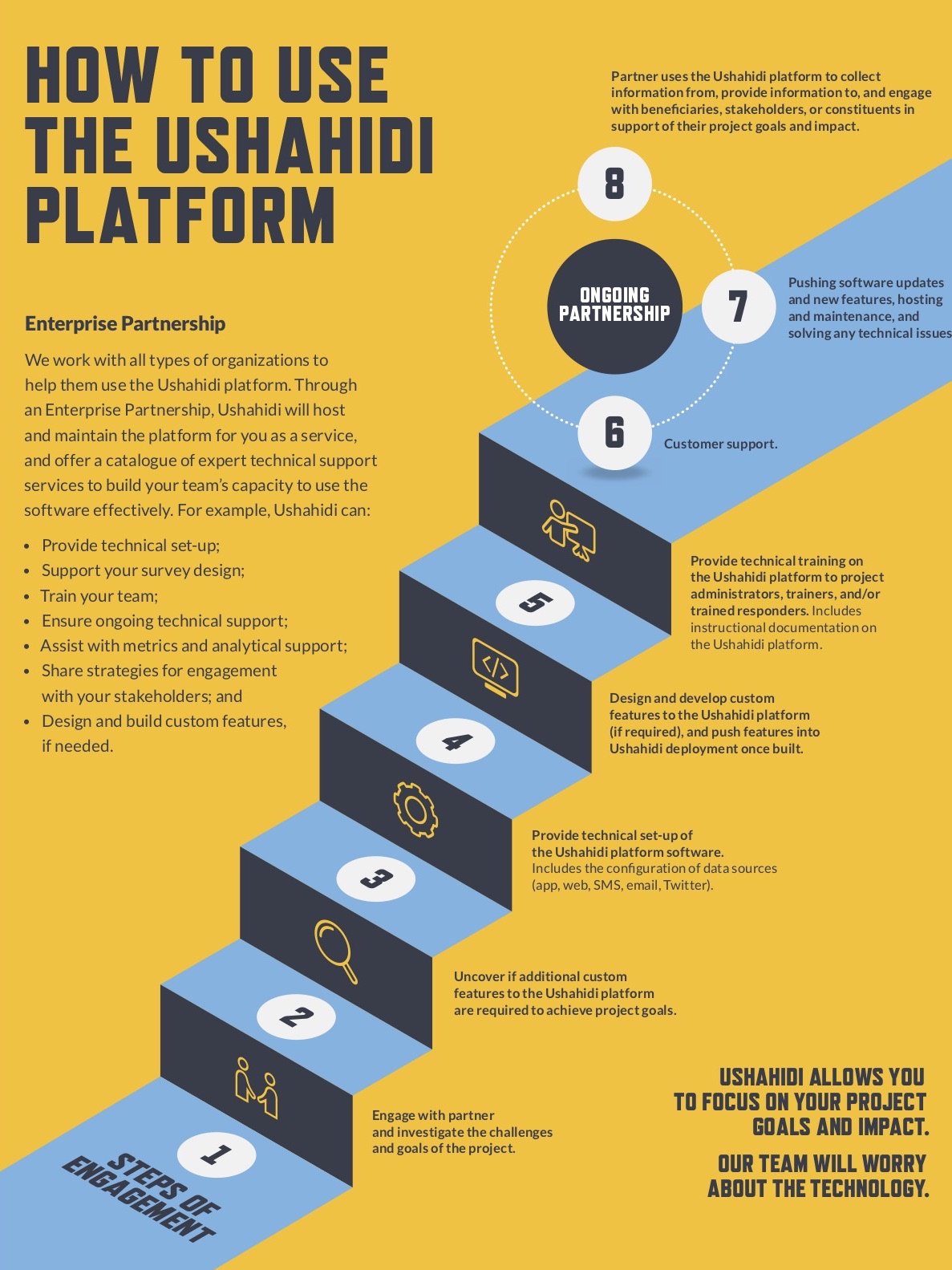 Our Enterprise Services
Platform set up


We'll set-up the tech for your Ushahidi deployment so that you don't have to worry about it. We'll integrate your SMS gateway, set up and test all communication channels, and make embed code available for easy sharing. As an extra service, we can help guide you through the process of designing surveys to effectively engage with your stakeholders, beneficiaries, or community.

Dedicated technical support


We will provide dedicated technical support, or an account manager, in order to answer any questions that arise about your deployment over the life of your project, and help to troubleshoot and escalate any technical issues that you encounter.

Virtual and in-person training


Our team can train your project administrators, trainers, or field staff virtually or on-site. We'll teach you the best practices for using the Ushahidi platform to gather and respond to the voices from your crowd and collect information via targeted surveys. All of these trainings can be tailored to the needs of your project.

Software hosting and maintenance


Ushahidi will host your deployment on servers and databases that we manage so that your deployment is continually up and running. We will handle pushing updates, new features, and fixing bugs. We'll take care of the technology so that it works while you focus on your project goals and impact.

Catalogue of services and expertise


At Ushahidi, we have deep expertise regarding the problems and realities that exist on the ground when conducting data collection and community engagement in difficult environments. We offer a catalogue of services to solve these challenges and provide other desired services, such as whitelabelling, translation, and additional trainings.

Software customizations


Ushahidi can scope out and provide a budget for customizations to the existing Ushahidi platform if desired by Enterprise partners. These customizations can include new features, new data sources, additionally language capabilities, and other requests or features.
Solutions for Many Sectors
Citizen Engagement

Get insights into citizen opinion and usage of city amenities at a fraction of the cost of traditional methods.

Civil Society

Uncover hidden testimonials, build a compelling body of evidence, share it with the world using maps and charts.

International Development

Get feedback from beneficiaries country-wide and easily track distribution and report impact.

Election Monitoring

Get the near real-time ground truth on election day at dramatically lower cost, empower citizens to protect their democratic process.

Humanitarian Aid

Respond faster and more effectively in the critical hours after disaster strikes.

Incident Management

Connect with your local field or country staff in order to monitor events and escalate security issues to a home office for triaging and response.
Work With Us
If you are a global development organization, Ushahidi can help magnify your impact.
Global humanitarian and development organizations need to collect many different types of data, and often quickly, to best serve their beneficiaries. The Ushahidi platform helps you pull information from multiple sources, including custom surveys, emails, SMS, social media platforms, smartphone apps on iOS and Android, and even through CSV import tools for bulk data uploads. The Ushahidi platform can download any cross-section of data you want and filter it as you need. The data curation functionality can also drill down to the data set you want and correct any mistakes that may have occurred during the data entry.
If you are a human rights organization, Ushahidi can help you safely gather first-hand testimonies from those you help advocate for and protect.
As a human rights organization, you want to protect the people who are raising their voice. You care about data privacy and encryption. You also want to encourage people to speak up against injustice because you simply don't have enough people on the ground to find and reach each affected person face to face. Ushahidi can help because we build tools so people can report an incident anonymously in some cases. The Ushahidi platform gives people the power to raise their voice without fear, and through the aggregation of those voices bring attention and change to their plight.
If you are looking to build trust in the election process, Ushahidi can help you turn every citizen into an election monitor.
Democracy and elections are built on trust. When an electorate does not believe in the system, often violence ensues to protest an outcome. This is where technology can help. The Ushahidi platform builds more trust in the system because it enables citizens to report on any incidents of corruption in real-time, helping keep an eye on the vote.
If there is a crisis, Ushahidi can help communities deploy resources more efficiently and effectively to reduce suffering and save lives.
When devastations like an earthquake, political crisis, or hurricane take place, there are often no formal channels for citizens to report on their needs ahead of time. The Ushahidi platform has now been used in around the world to help respond to crisis situations. This software gives people the ability to report what kind of urgent assistance they are in need of and their location, allowing others, ranging from humanitarian organizations to community members, to more effectively respond.
Interested in Ushahidi's Enterprise Services?
Contact us